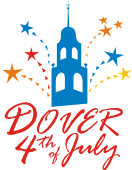 A Celebration of Independence in the Capital of the First State
---
The Dover 4th of July Committee has been hard at work for the past few months planning what we hope will be a memorable celebration!! Many, many thanks to our 2016 Sponsors who stood with us in spite of more than one setback! They will be recognized as our 2017 Sponsors. We looking forward to a really great event and hope you'll come join us on Tuesday, July 4, 2017 in beautiful downtown Dover!!

2017 SPONSORS
Dover's annual Fourth of July celebration is made possible only through the generous donations of local businesses and individuals. Please consider becoming a Sponsor or Adopt-a-Firework and show your support for this community event!
FRIENDS OF THE FOURTH





Charles & Shirley Cunningham
Thomas & Gail Vella
​Jerry & Margie Tucker
​Julia Painter
Rusty Clark
Merle Norman Cosmetics
​James Goldsberry








ADOPT-A-FIREWORK
Adopt-A-Firework Today!!
You can "adopt" individual firework shells that will be fired during the big show on Monday, July 4, 2016! This also m nhakes a great gift to recognize a special event or as a memorial for someone special. Or "adopt" one for your community, organization, club, or group!
TOM&KATHY DIX 2016
Dan & Phyllis Marsh (2)
The Speed Family
​In Memory of George Washington
​Lori N Christiansen (2)
​Sally Dill
​A[lly] J Mclellan (2)
Maureen Rose
Michele Violet
Edgehill Community Church of God
Arthur and Roberta McQueen
Alan and Janis Geddis (2)
SJ Gary, CPA
Stephanie Steckel DDS
​Cecelia Dunning